What is an Apostille?
Apostille is a special stamp that certifies the validity of signatures, status of persons, seals; The validation of signatures and seals on official documents by the apostille makes these documents valid in all States Parties to the Hague Convention.
Ukraine acceded to the Hague Convention on January 10, 2002, the Convention entered into force on December 22, 2003, so 112 States Parties to the Convention refused the requirement of full consularization of official documents and switched to a simplified apostasy procedure.
Why do you need an apostille?
For example, if you are traveling to another country for study, work or permanent residence, you may need educational documents obtained in Ukraine. In order for your documents to be valid abroad, they must undergo a consular legalization or apostille procedure.
What does the apostille look like?
The apostille is in the form of a square of at least 10x10 and contains the following text: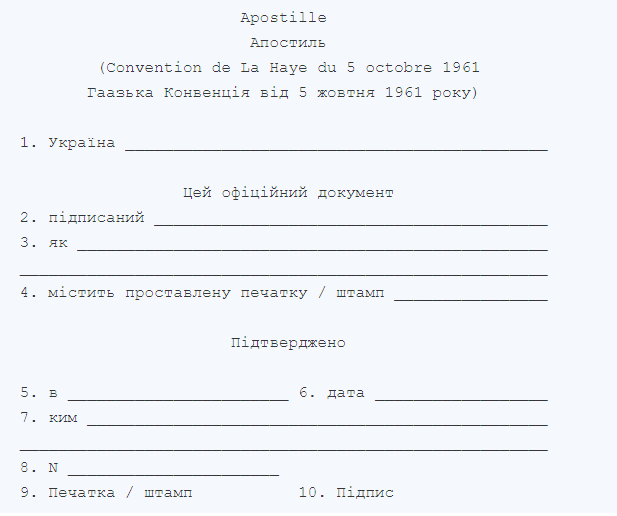 What can be apostilled?
- Documents issued by the judicial authorities of Ukraine.
- Documents issued by the bodies of the Prosecutor's Office of Ukraine, the bodies of justice.
- Administrative documents.
- Education documents and academic titles.
- Documents issued by public and private notaries.
- Official certificates that are made on documents signed by persons in their private capacity, such as official certificates of registration of a document or fact that existed on a certain date, and official and notarial certificates of signatures.
Recent changes in Apostille legislation
On March 7, 2020, the order of the Ministry of Justice dated February 27, 2020 No. 702/5 "On Amendments to the Procedure of Apostille Approval on Official Documents Issued by the Bodies of Justice and Courts, as well as Documents Issued by Notaries of Ukraine" came into force.
According to this decree, notaries are given the power to accept and issue apostille documents on official documents drawn up by notaries of Ukraine, as well as on documents issued by the justice authorities and courts.
---
Sources:




1. A great explanatory dictionary of modern Ukrainian. Kyiv, 2005




2. The Hague Apostille Convention is now in force with Germany. Radio Liberty. 2010-07-29. Archive of the original for 2013-06-24. Cited 2012-08-22.